I had the great, good fortune to be interviewed on the Arena Arts Show on RTE radio last night alongside fellow scribbler Ed O'Loughlin. The show was done live from the Woodstock Cafe in Phibsboro--a great little spot, incidentally; lovely food and hospitality and it's tripping distance (next door to) one of Dublin's finer pubs, The Hut.
The occasion was the launch of this year's fabulous Phizzfest, the Phibsboro Art Festival, at which Ed and myself are doing a gig, titled Crimes of the State. We'll be chatting about genre, state terror and other stuff brewed up to make a bank holiday weekend just that little bit better. It's on upstairs in the above mentioned Hut at 5 p.m. on Sunday. There will be pints after...or during should you need them. (You just might!) So, RTE was in the Phib last night with a live broadcast to launch the Fest.
Now, I've done some radio in the past. Ok, I've done radio twice in the past, the first time being in Aberdeen, Scotland of all places. The occasion was the Aberdeen International Football Tournament and my team were to play the Aberdeen F.C. junior side. (Just remembering this now, I wonder was Alex Ferguson then senior manager at Aberdeen...this was in 1985 so...no idea...would have to Goggle it,) Anyhoo, local radio wanted one of our number for an interview in advance of the match and myself and another lad, a Columbian named Mauricio, were volunteered for the gig. Mauricio was delighted and told me and everybody else how wonderful he'd be on the radio...in Spanish. So it was down to me and Mauricio, who piped in now and again with 'Si, si...', to field the questions. The first one was about the name of our team. How was it, the presenter asked, that a team from Tampa Florida came to be called Blackwatch Tartan FC? In my wisdom, I answered that perhaps we were named after the Tartan Lager beer that we had enjoyed on the train up from London. The presenter laughed. I laughed. Mauricio said, 'Si, si...cerveza...' and laughed. And the next day the warm and welcoming fans of Aberdeen FC showed their warmth and hospitality by showering us with empty Tartan Lager cans every time we took a throw-in or corner. 'Here's yer Tartan Lager, ye wee Yankee strip of shite!' My teammates, needless to say, thought it was a whole can of laughs, me and my radio schtik.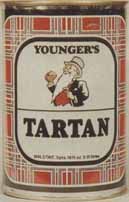 These hurt when thrown.
The second time was a few weeks ago, on the History Show on NearFM which I linked in the last post. Needless to say, no one threw cans of anything at me the next day.
All of this to say that radio is fun but nerve-wracking in its own way, particularly live radio. The presenter is everything on radio and the man behind the mike last night, Arena and Lyric FM's Sean Rocks, made everyone feel at ease. He's a real pro, as is his researcher, Nuala O'Neill. So all in all, a fine evening, followed by even finer pints of the black stuff in the Hut. And no one has thrown anything at me today or called me a 'wee Yankee strip of shite'...yet. A podcast of the show can be found
here
.
Ed O'Loughlin
Incidentally, the Booker nominated Ed O'Loughlin has just published his latest tome, an Irish zombie political satire cum gorefest, titled All You Can Eat. He's going all new-fangled and high tech and launching it into the Kindle-sphere himself. It's a steal at the moment. Get it
here
. I read an early draft and it's bloody, pulpy, and bloody well brilliant.
This is not the cover to All You Can Eat...but it should be!